Shells Shrimp and Garlic Pasta come from a very popular Florida restaurant chain. This is one of their most requested recipes. This is a quick and easy dish to make at home.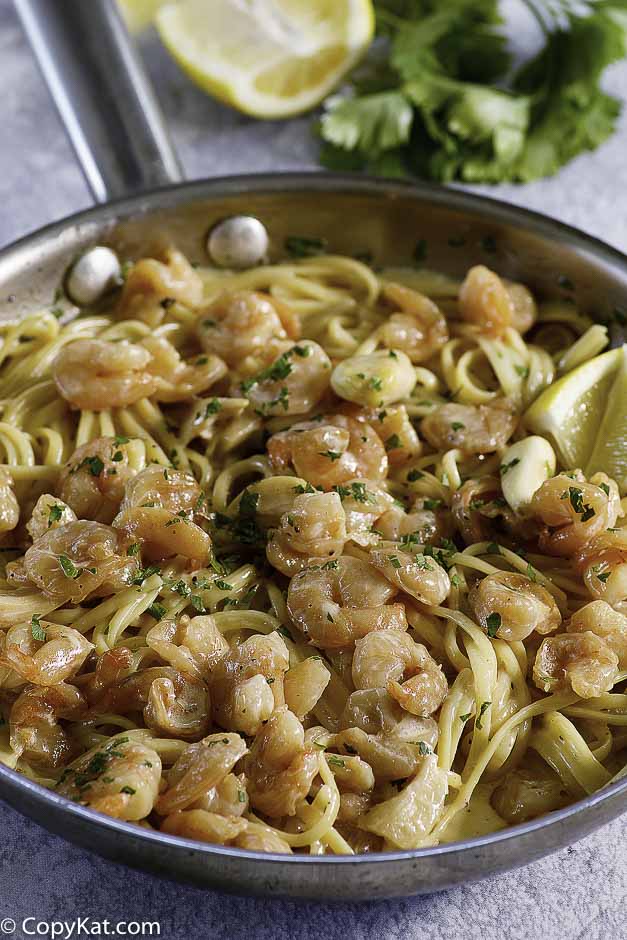 easy Garlic shrimp pasta
Anyone can make this recipe at home. One taste and you'll want to put this on your weekly menu. Do you enjoy recipe videos? Here's one I made of this recipe, so you can see how to make it.
A Popular Shells restaurant recipe
Shells is a very popular Florida restaurant chain renowned for its great seafood in a casual setting. This delicious shrimp pasta dish is one of their most requested pasta recipes. Many of us don't live near Shells, but you can make this classic dish at home. Succulent shrimp in a creamy wine and garlicky sauce pairs nicely with linguine. It's quick and easy, and dinner will be ready in no time.
In this dish, the pasta is clearly present, but you won't feel like you're eating a giant heap of mostly linguine with a few scarce shrimp dotted sparsely about as though they've been rationed.
When you make this shrimp and pasta recipe, you'll feel like a chef in a fancy restaurant, even though what you're actually doing is just cooking noodles and downing a little wine. This pasta recipe is ideal for all kinds of occasions. Maybe you just need a simple meal for a weeknight (always!)? Perhaps you plan to prepare dinner for that special someone? This is the perfect dish for that February holiday that begins with a "V" and ends in chocolate!).
Can You Use Frozen Shrimp?
Many people keep frozen shrimp on hand as a staple, so you don't have to be a seafood purist. You can buy frozen raw shrimp with the tails, shells, and veins removed, and save yourself oodles of time. Frozen shrimp thaw quickly and cook in less than four minutes. Also, unless you live near the ocean, the "fresh" shrimp you buy at the supermarket has usually arrived frozen – they are then thawed prior to being sold.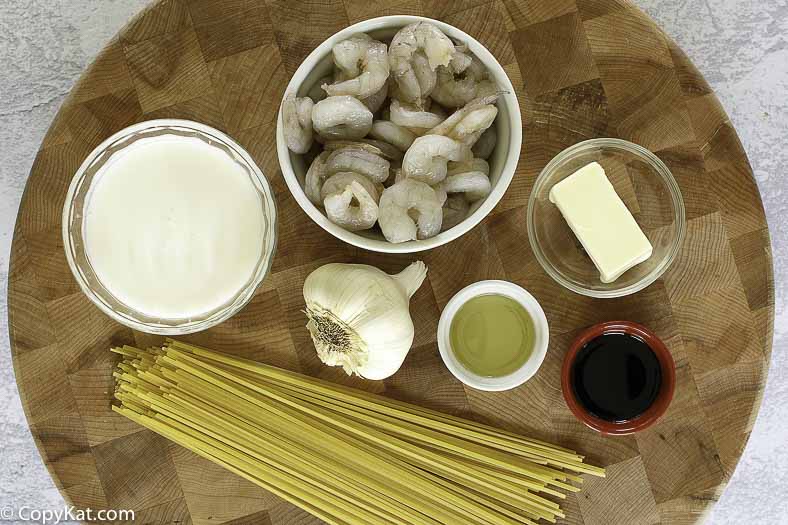 How to make garlic sauce for pasta
You can reuse this garlic sauce on other seafood pasta recipes. It's a classic and will go with lobster and crab too. I made it with the following ingredients:
Wine
Olive Oil
Garlic
Salt and Pepper
Heavy Cream
Soy Sauce
Do not overdo the soy sauce
Be very careful with the soy sauce. You only need two dashes for the entire pan. But don't skip it either. You might think, "oh just two dashes? I'll just leave it out." But the soy sauce adds the depth and saltiness that makes it taste like the sauce from Shells Restaurant.
What type of pasta can you use?
If you want the garlic shrimp pasta to taste like the one from Shells Restaurant, then use linguine noodles. If you don't have linguine noodles. you can use fettucini noodles instead. I've seen recipes use angel hair pasta too. Feel free to be creative and try different types of pasta and see which you like best.
How long do you cook shrimp?
This depends on whether you buy raw or pre-cooked shrimp. Raw shrimp usually takes about 5 minutes to fully cook. You will know it's cooked all the way when it is nice and pink, like in my pictures.
Recommended Tools to Make this garlic butter shrimp Recipe
I love a pot with a removable strainer insert. It makes draining the pasta easy.
You can use a knife to finely chop the garlic, but a garlic press makes the job much easier.
More Seafood and pasta recipes
Love the combination of shrimp and pasta? Here are some more copycat shrimp pasta recipes for you to try. Let me know what your favorite shrimp pasta dish is. I love hearing from my readers.
Anthony's Linguine Calamari and Shrimp Pomodoro
Benningan's Ale House Shrimp and Pasta
Olive Garden Shrimp Caprese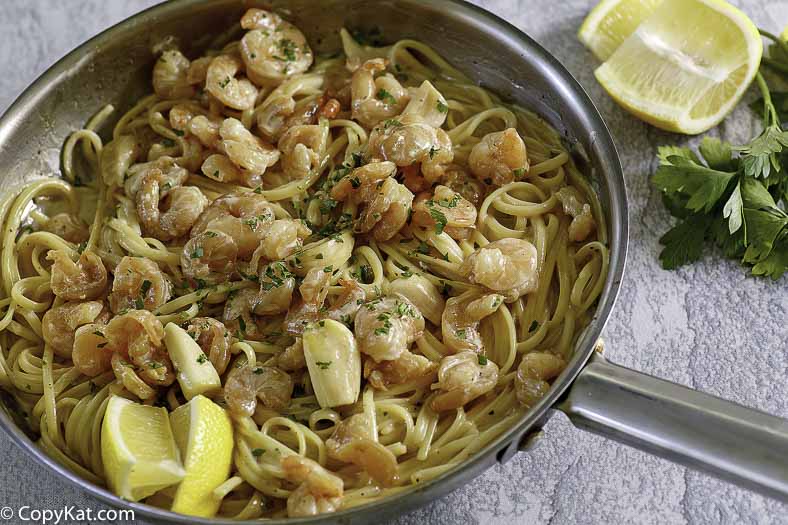 Shells Shrimp and Garlic Pasta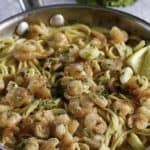 Shells Shrimp and Garlic Pasta is soo good. This shrimp pasta is so deliciously doable that you can cook it with confidence and success.
8 ounces linguine
2 tablespoons butter
1 pound shrimp ( — cleaned and halved)
1/2 cup Olive oil
1/2 cup dry White Wine
8 cloves garlic (– crushed)
2 dashes soy sauce <br /> (DO NOT OVERDO)
2 cups heavy cream
salt and pepper to taste
Add the linguine and butter to a pot of salted boiling water and cook until almost al dente. Drain and set aside. 

In a large saucepan, combine the wine, olive oil, garlic, salt and pepper, heavy cream and soy sauce. Stir in the shrimp then add the linguine. Over medium-high heat, stir gently for a few minutes until the shrimp are done and the linguine is fully cooked. 

Serve immediately. This dish will seem a little runny at first but will set up and turn into a wonderful sauce. 
The post Shells Garlic Shrimp Pasta appeared first on CopyKat Recipes.